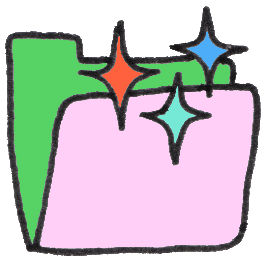 SPECIAL TREATS (#1)
JUNE 21, 2022
WE'RE PICKING FAVORITES TODAY—THESE ARE SOME PARTICULARLY GOOD THINGS WE'VE COME ACROSS RECENTLY.
GREENS MIX FROM PLANE MEADOW FARM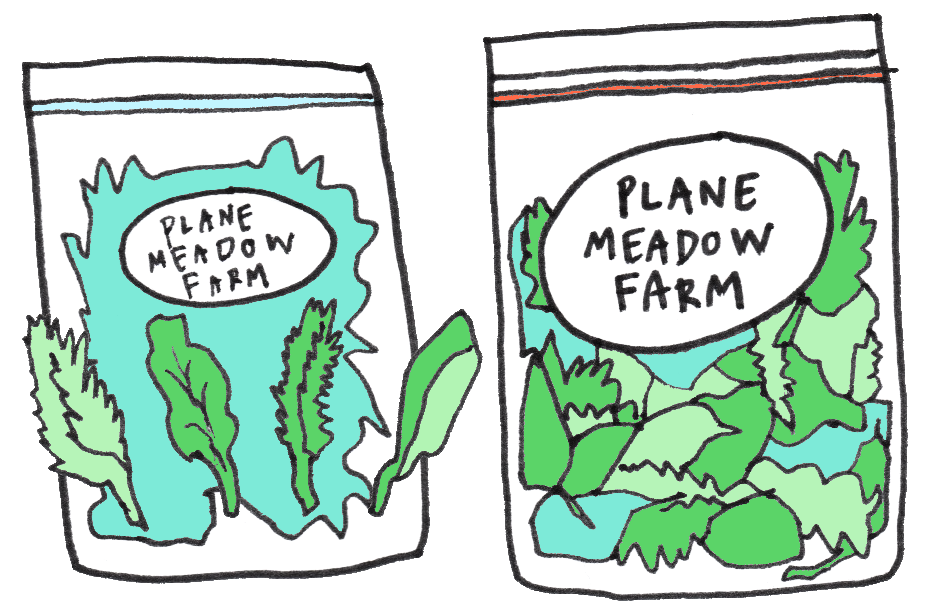 PRETTY EASILY OUR FAVORITE GREENS MIX—A LOT OF FUN FRILLY STUFF YOU DON'T USUALLY GET, AND PLENTY OF PEPPERY SPICY THINGS. OUR RESIDENT GREENS EXPERT THINKS IT CONTAINS: RUBY STREAKS, SCARLET FRILLS, GOLDEN FRILLS, GREEN AND PURPLE MIZUNA, RED MUSTARD, AND SOME TYPE OF TATSOI OR PAK CHOI. YOU CAN FIND PLANE MEADOW GREENS (GROWN IN TIVOLI) AT MONTGOMERY PLACE ORCHARDS FARM MARKET.
GARLIC SCAPE PESTO FROM MONTGOMERY PLACE ORCHARDS FARM MARKET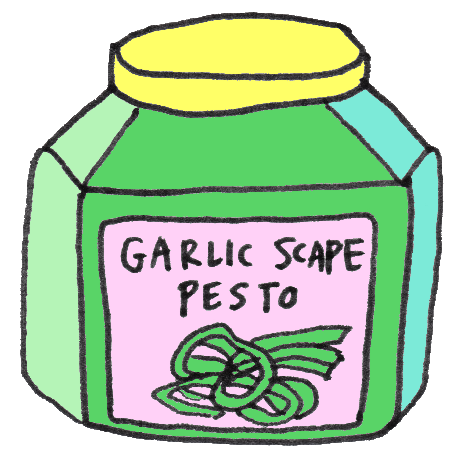 ANYTHING THAT COMES FROM THE KITCHEN AT MONTGOMERY PLACE ORCHARDS FARM MARKET IS HEAVEN, PLAIN AND SIMPLE. THIS GARLIC SCAPE PESTO MAKES EVERYTHING MORE EXCITING. THE KITCHEN ALSO MAKES GREAT PICKLES, SALSA, AND MUCH MORE.

SPOTTED RECENTLY AT THE FARM MARKET: YOUNG SUMMER SQUASH WITH THE BLOSSOMS ATTACHED, AND FRESH STRAWBERRY JAM FROM THE KITCHEN.
GARLIC SCAPE & HERB
CREAM CHEESE AT
RHINEBECK BAGELS
SOMETIMES WE CAN BE FOUND AT RHINEBECK BAGELS THREE DAYS IN A ROW, WHICH IS NOT TRUE FOR ANY OTHER BREAKFAST SPOT. OWNER JEREMY MAKES SPECIAL CREAM CHEESES THAT ARE SO GOOD! WE LOVED THE BLACK GARLIC A FEW WEEKS AGO, BUT THE GARLIC SCAPE AND FRESH HERB IS OUR RECENT FAVORITE—MADE WITH SCAPES AND HERBS FROM JEREMY'S GARDEN. MOST OF THESE SPECIAL FLAVORS ARE IN LIMITED SUPPLY. THE ONLINE MENU IS UPDATED DAILY WITH SPECIALS.
MEI'S DUMPLINGS AT RHINEBECK FARMERS' MARKET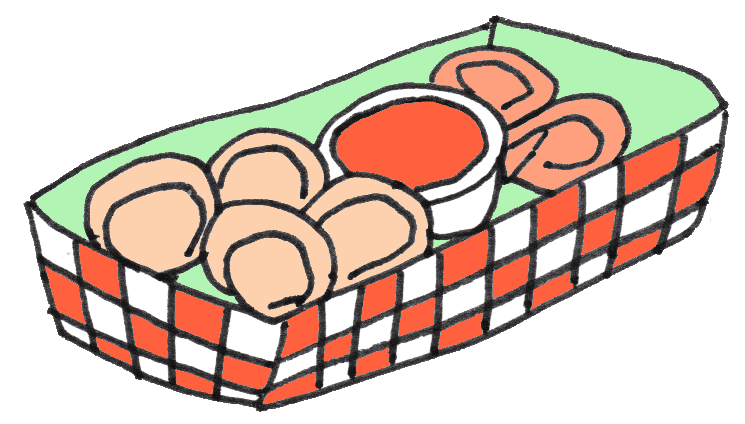 RHINEBECK FARMERS' MARKET IS WORTH ATTENDING FOR MANY REASONS—BUT VISITING MEI'S DUMPLING STAND IS A PARTICULARLY GOOD ONE. BASED IN COPAKE, MEI'S DUMPLINGS DOES POP-UPS ALL OVER THE PLACE AND SELLS OUT QUICKLY. WE WERE VERY HAPPY ONCE TO FIND A MEI'S DUMPLINGS AND GRIMALDI BEEF COLLABORATION—GRIMALDI IS OFF THE TOP SECRET FOLDER MAP BUT IT'S A FARM IN GHENT WITH A GREAT LITTLE FARM STORE. IF YOU VISIT, BUY MORE THAN ONE CONTAINER OF PESTO OR YOU'LL WISH YOU HAD!
STRAWBERRIES FROM
MEAD ORCHARDS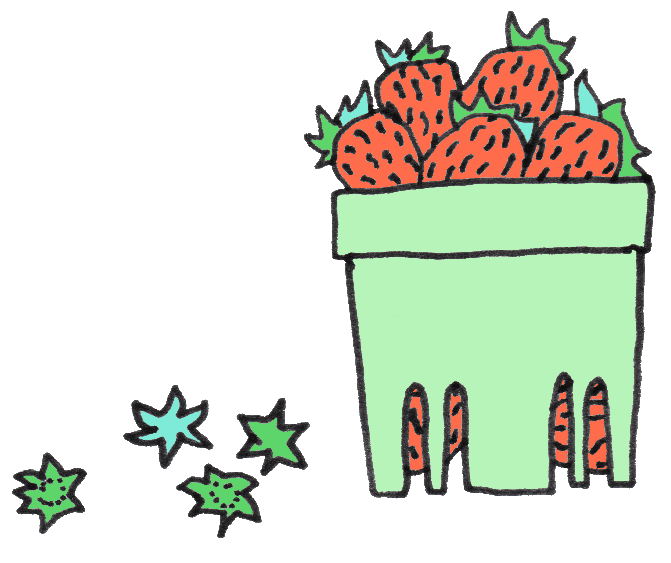 IT'S PEAK STRAWBERRY SEASON! WE BOUGHT SOME FROM MEAD ORCHARDS THAT WERE UNFORGETTABLY GOOD—ALMOST NO WHITE CENTER SOMEHOW AND A VERY STRONG SWEET TASTE. HARD TO DESCRIBE BUT THESE ALMOST HAD A FAKE/CANDY GRAPE FLAVOR! REMINDED US ABOUT SOME THINGS WE LEARNED ABOUT STRAWBERRY FLAVOR WHILE PUTTING TOGETHER STRAWBERRY O'CLOCK, OUR STRAWBERRY SEASON REPORT.
"GOLDBURGER" (VEGGIE) AT WEST TAGHKANIC DINER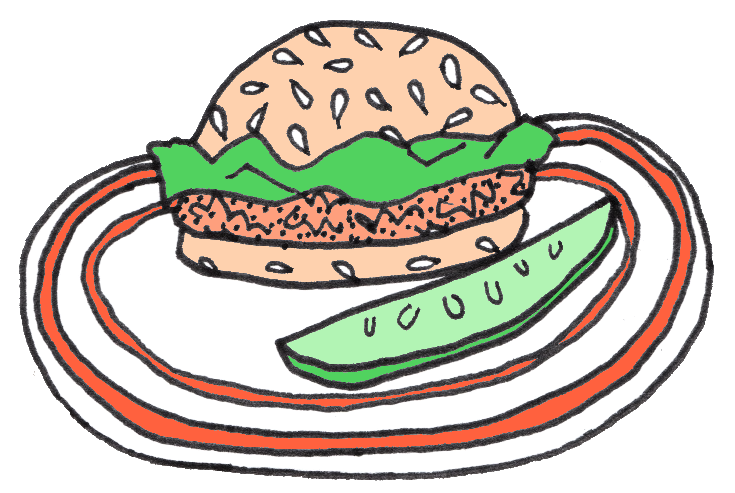 WE STOPPED BY WEST TAGHKANIC DINER LAST WEEK FOR THEIR NEW MONDAY NIGHT DINNER AND ORDERED BOTH BURGERS—A SMASH BURGER STYLE OPTION AND THIS VEGGIE BURGER, WHICH ENDED UP BEING THE BETTER CHOICE. WE'RE TOLD A PASTRY CHEF IS RESPONSIBLE FOR DEVELOPING THE PATTY, WHICH MAKES SENSE TO US. IT'S CRISPY AND DELICIOUS—AND WE THINK MOST VEGGIE BURGERS TASTE LIKE AN OLD BOOT.
WEST TAGHKANIC DINER
ANCRAMDALE

GOLDBURGER — $14
SMASH BURGER — $18
+ A WEEKLY ROTATING MENU FOR THE NEW MONDAY NIGHT DINNER

S⠀M⠀T⠀W⠀T⠀F⠀S

MENU⠀⠀⠀⠀MAP
RHINEBECK BAGELS
RHINEBECK

BACON EGG AND CHEESE — $4.50
BAGEL WITH CREAM CHEESE — $2
LOX BAGEL — $8.50

S⠀M⠀T⠀W⠀T⠀F⠀S

MENU⠀⠀⠀⠀MAP
MONTGOMERY PLACE ORCHARDS' FARM MARKET
RED HOOK

SEASONAL—USUALLY MID-JUNE THROUGH THANKSGIVING. APPLES, PEACHES, PEARS, BERRIES, ZUCCHINI, PUMPKINS, AND MORE. MPO STOCKS PRODUCE, BREAD, CHEESE, ETC. FROM OTHER LOCAL FARMS AND PURVEYORS.

S⠀M⠀T⠀W⠀T⠀F⠀S

IG⠀⠀⠀⠀MAP