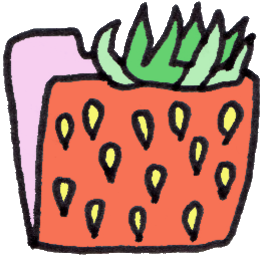 STRAWBERRY O'CLOCK
MAY 22, 2022
STRAWBERRIES ARE THE FIRST FRUIT AVAILABLE FOR PICK-YOUR-OWN AT MOST FARMS. DAYDREAMING ABOUT THE TINY WILD ONES WE SOMETIMES FIND IN THE ADIRONDACKS, WE REALIZED WE DON'T KNOW EVERYTHING WE WANT TO KNOW ABOUT STRAWBERRIES. LET'S TAKE A WALK DOWN STRAWBERRY ROW BEFORE THE BERRIES SHOW UP.

MOST STRAWBERRIES ARE JUNE-BEARING, VERSUS EVER-BEARING (TWO HARVESTS, ONE SPRING AND ONE SUMMER/FALL) OR DAY-NEUTRAL (LARGE YIELD FOR THE FULL SEASON BUT WITH VERY SMALL FRUIT).

THERE ARE HUNDREDS OF DIFFERENT CULTIVARS—VARIETIES CREATED THROUGH SPECIFIC BREEDING. RED HOOK'S ROSE HILL FARM, A HISTORIC PICK-YOUR-OWN FRUIT ORCHARD KNOWN FOR GROWING MANY VARIETIES (25 KINDS OF CHERRIES, 5 KINDS OF BLUEBERRIES, 15 KINDS OF PEACHES, ETC.) WILL HAVE AT LEAST 4 KINDS OF STRAWBERRIES FOR PICKING THIS SEASON:

GALLETTA (EARLY SEASON)
JEWEL (MID-SEASON)
CABOT (LATE/MID-SEASON)
MALWINA (LATE SEASON)

PICTURED HERE: THE FOUR MAIN VARIETIES PLANTED AT ROSE HILL FARM FOR PICKING THIS YEAR, IN RIPENING ORDER.
WHAT MAKES A STRAWBERRY REALLY GOOD?
A LOT OF THINGS CONTRIBUTE TO A STRAWBERRY'S TASTE—ONE OF THEM IS THE AMOUNT OF WATER THE PLANTS GET. DRY FARMING (RESTRICTING WATER AT A CERTAIN POINT IN THE PLANT'S GROWTH) PRODUCES FRUIT WITH LOWER WATER CONTENT, AND AS A RESULT, A GREATER DENSITY OF SUGAR AND FLAVOR COMPOUNDS.

COMMERCIAL STRAWBERRIES OFTEN HAVE HIGH WATER CONTENT (AT THE EXPENSE OF FLAVOR). STRAWBERRIES ARE ALSO AT THE TOP OF THE LIST OF FRUITS AND VEGETABLES WITH HIGH LEVELS OF PESTICIDE CONTAMINATION—SOMETHING TO CONSIDER WHEN YOU BERRY SHOP.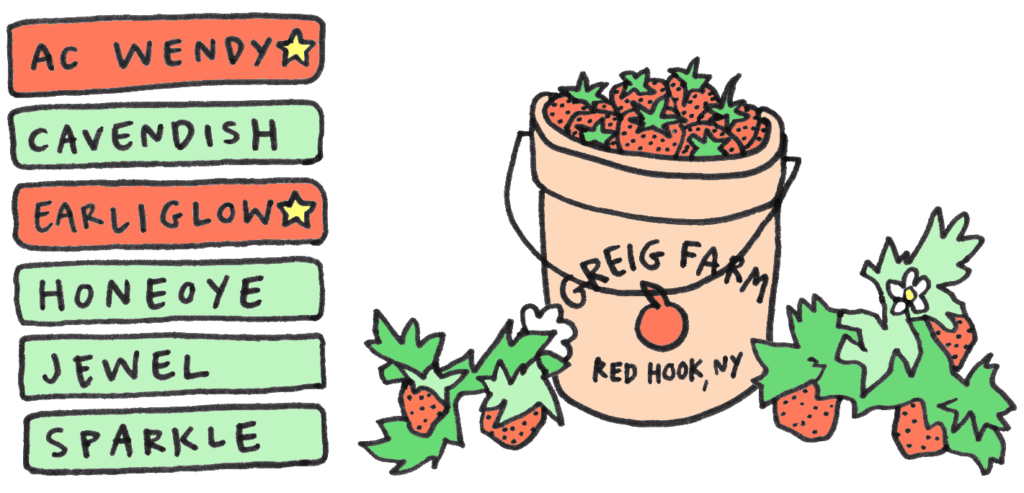 GREIG FARM HAS BEEN GROWING STRAWBERRIES ALMOST EVERY YEAR SINCE IT WAS ESTABLISHED IN 1942. THEIR BERRIES ARE NO-SPRAY AND ZERO-INPUT (NO FERTILIZER, ETC.)—THEY JUST ADD A LAYER OF STRAW AT THE END OF THE SEASON FOR WINTER INSULATION AND PROTECTION.

GREIG FARM IS CURRENTLY GROWING AC WENDY, CAVENDISH, EARLIGLOW, HONEOYE, JEWEL, AND SPARKLE VARIETIES. PART OF A CROP ROTATION, NEW BERRIES ARE PLANTED EACH YEAR WITH THE FIRST CROP COMING THE FOLLOWING SUMMER. EACH PATCH TYPICALLY PRODUCES 2-3 HARVESTS. THIS YEAR, GREIG FARM WILL MAINLY HARVEST AC WENDY AND EARLIGLOW BERRIES PLANTED IN 2020 AND 2021. THE PLANTS PUT IN THE GROUND THIS YEAR WILL PRODUCE BERRIES IN 2023, 2024, AND POSSIBLY 2025.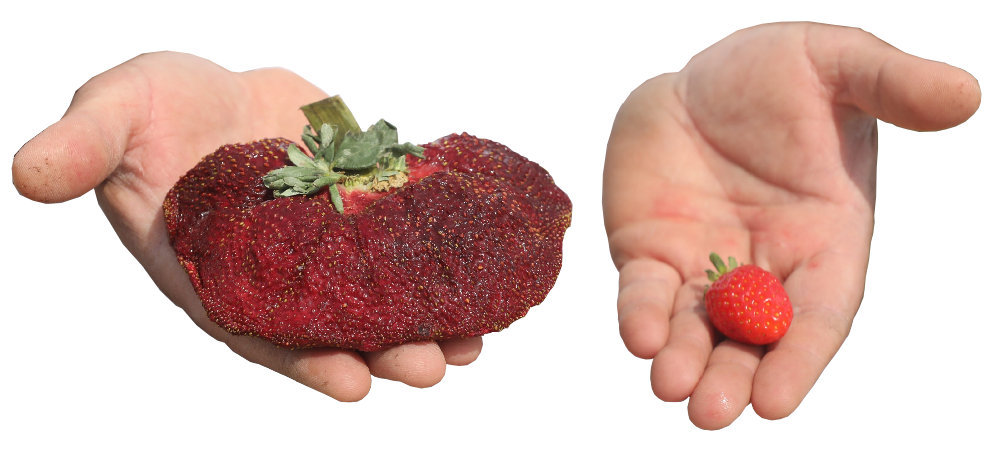 PICTURED: THE WORLD'S LARGEST AND FUNNIEST LOOKING STRAWBERRY (ISRAEL, 2022).
STRAWBERRIES GONE WILD
WHERE A RASPBERRY'S FRAGRANCE COMES MAINLY FROM ONE VERY SPECIFIC MOLECULE (READ MORE ABOUT THE RASPBERRY KETONE), A STRAWBERRY'S FRAGRANCE COMES FROM A BLEND OF 20-30 MOLECULES. WILD STRAWBERRIES—THE ONES WE DREAM ABOUT DESPITE THEIR TINY AND SOMETIMES LUMPEN FORM—PRODUCE A GREATER QUANTITY OF FLAVOR MOLECULES THAN THOSE COMMERCIALLY AVAILABLE, WHICH EXPLAINS THE WAY WE FEEL ABOUT WILD STRAWBERRY FLAVOR.

STRAWBERRIES ARE NOT TECHNICALLY BERRIES—THEY'RE ACCESSORY FRUITS (READ MORE) AND MAINLY REPRODUCE THROUGH RUNNERS, DESPITE BEING COVERED IN ~200 SEEDS. ALSO CONSIDERED MEMBERS OF THE ROSE FAMILY, STRAWBERRY PLANTS GIVE OFF A SWEET SMELL.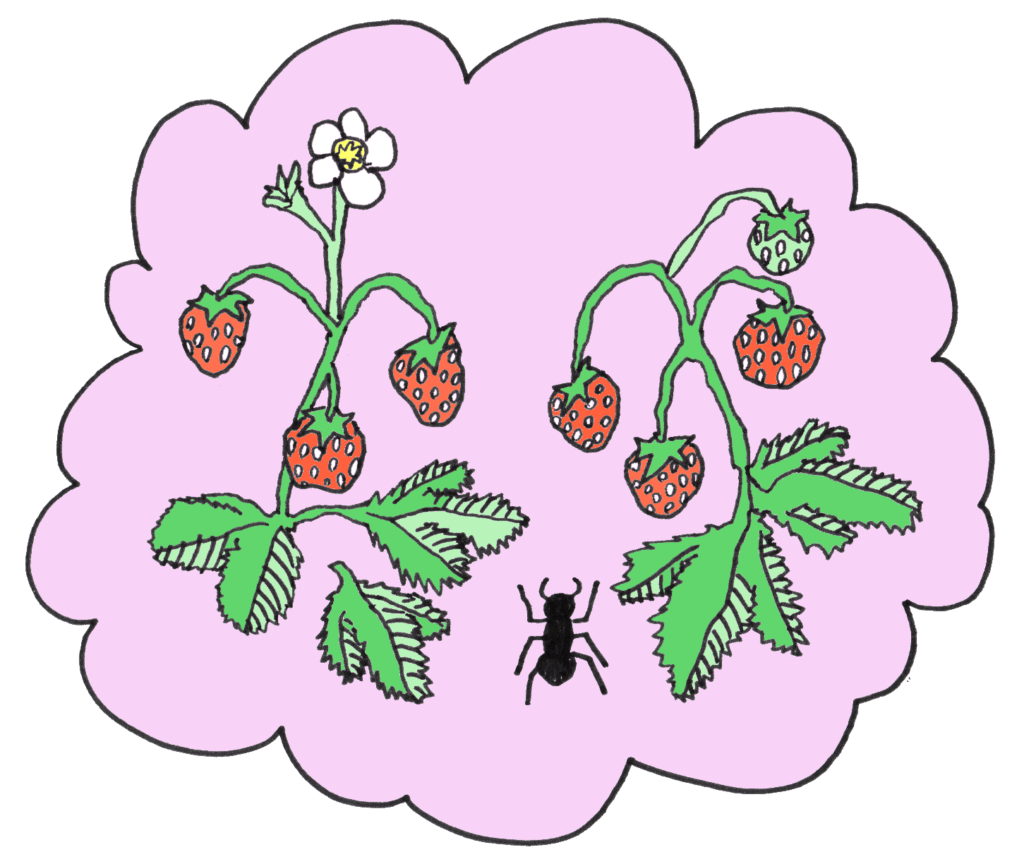 HAVE YOU EVER CUT OPEN A PEPPER TO FIND ANOTHER, SMALLER PEPPER INSIDE? THAT'S VIVIPARY, WHEN SEEDS BEGIN TO GROW WHILE ATTACHED TO THE PARENT PLANT/FRUIT. IN CERTAIN CONDITIONS, STRAWBERRIES CAN UNDERGO THE SAME PROCESS, WHICH LOOKS CRAZY—APPARENTLY THE SPROUTS DO NOT TASTE TERRIBLY GOOD, BUT THEY CAN BE SEPARATED AND PLANTED OUT TO EXPAND YOUR PATCH.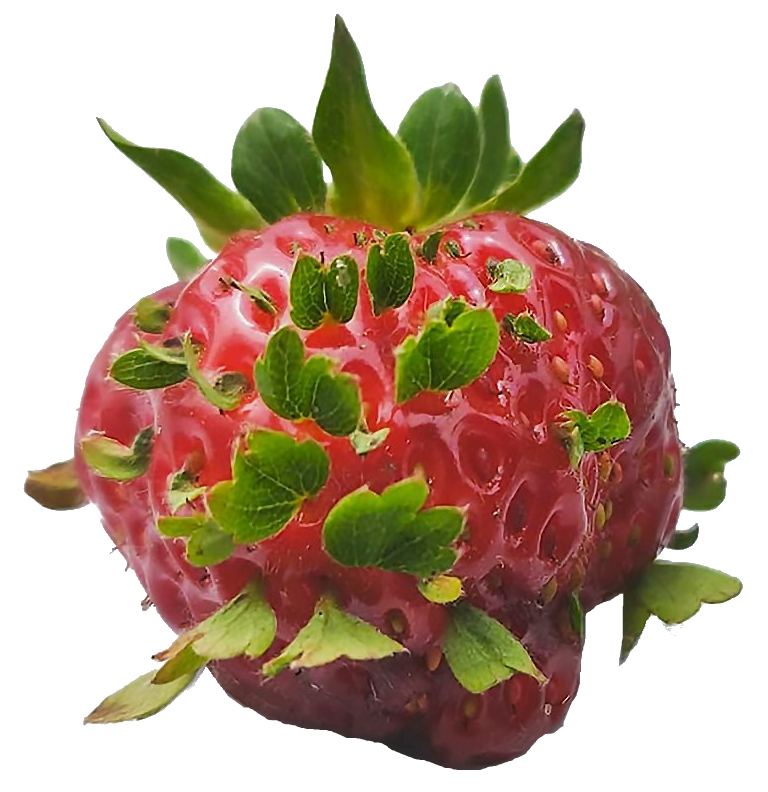 WE'RE EXCITED TO BE GROWING PINEBERRIES THIS YEAR—ONE OF THE OLDEST KINDS OF STRAWBERRIES IN NORTH AMERICA, THE WHITE-FLESHED PINEBERRY IS SUPPOSED TO TASTE LIKE A STRAWBERRY, BUT WITH NOTES OF PINEAPPLE. WE'VE BOUGHT THEM A FEW TIMES AT GREAT EXPENSE ($10-12/BOX) BUT NEVER HAD A GOOD ONE!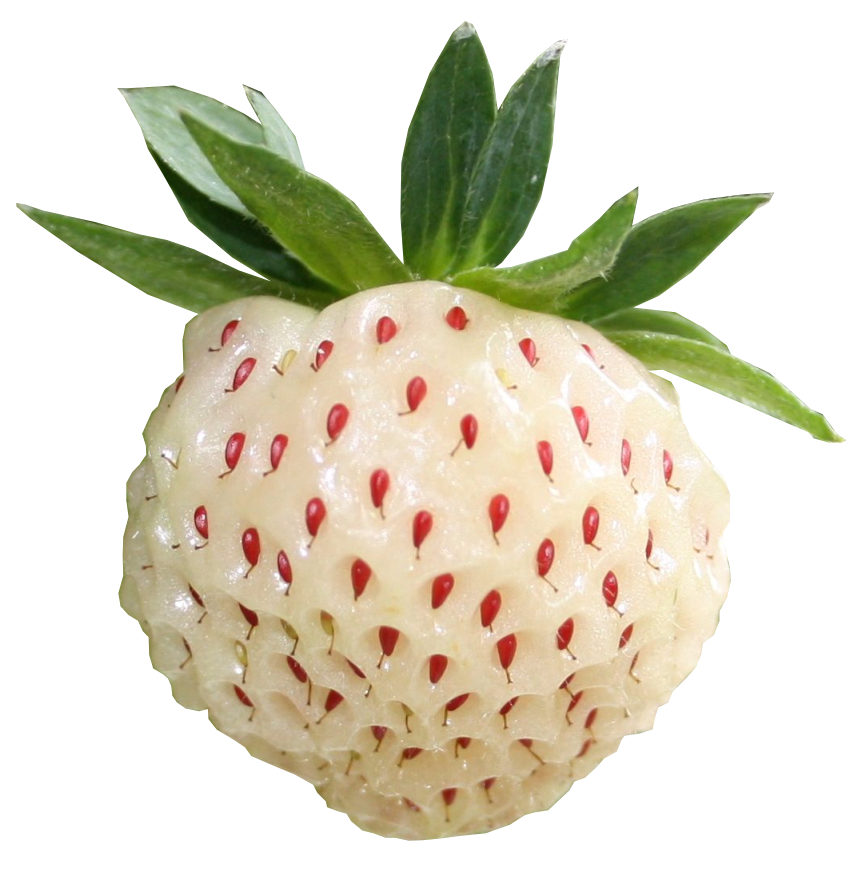 PICK YOUR OWN
PICKING TIPS FROM GREIG FARM:


STRAWBERRIES GROW LOW TO THE GROUND, SO YOU'LL HAVE TO CROUCH DOWN TO PICK THEM.



RIPE BERRIES ARE OFTEN TOO HEAVY FOR THE PLANT TO HOLD, SO SOME OF THE BEST BERRIES ARE RESTING ON THE GROUND UNDER LEAVES.



TO PICK A STRAWBERRY, PINCH THE STEM WHERE IT MEETS THE BERRY, AND LIGHTLY PULL.
PLEASE LET US KNOW IF WE'VE MISSED ANY FARMS OFFERING PICK-YOUR-OWN STRAWBERRIES. WE'LL UPDATE THE LISTINGS BELOW AT THE BEGINNING OF JUNE WITH ANY SCHEDULE UPDATES.
THOMPSON-FINCH FARM
ANCRAM

STRAWBERRIES: JUNE – JULY

CALL (518) 329-7578 BEFORE VISITING TO CHECK PICKING CONDITIONS—LAST TIME WE CHECKED THEY EXPECT TO OPEN FOR PICKING ON JUNE 10.

DAILY,
8 AM – 5 PM

IG⠀⠀⠀⠀MAP⠀⠀⠀⠀WEBSITE
GREIG FARM
RED HOOK

GREIG FARM, ESTABLISHED IN 1942, WAS ORIGINALLY A FRUIT AND DAIRY OPERATION. OVER THE YEARS THE PICK-YOUR-OWN OPERATION HAS BEEN EXPANDED (COWS SOLD IN 1998) AND THE 1850S DAIRY BARN HAS BEEN RENOVATED TO HOUSE PROJECTS BY ARTISTS AND SMALL BUSINESSES.

STRAWBERRIES: JUNE – JULY

DAILY,
8 AM – 8 PM

IG⠀⠀⠀⠀MAP⠀⠀⠀⠀WEBSITE
ROSE HILL FARM
RED HOOK

ROSE HILL FARM, ESTABLISHED IN 1798, GROWS AN INCREDIBLE VARIETY OF FRUIT; CHECK THE RIPENING SCHEDULE FOR MORE INFORMATION ABOUT WHAT'S AVAILABLE (25 KINDS OF CHERRIES, 5 KINDS OF BLUEBERRIES, 15 KINDS OF PEACHES, AND MUCH MORE).

STRAWBERRIES: JUNE – JULY

THURSDAY – SUNDAY,
8 AM – 1 PM

IG⠀⠀⠀⠀MAP⠀⠀⠀⠀WEBSITE